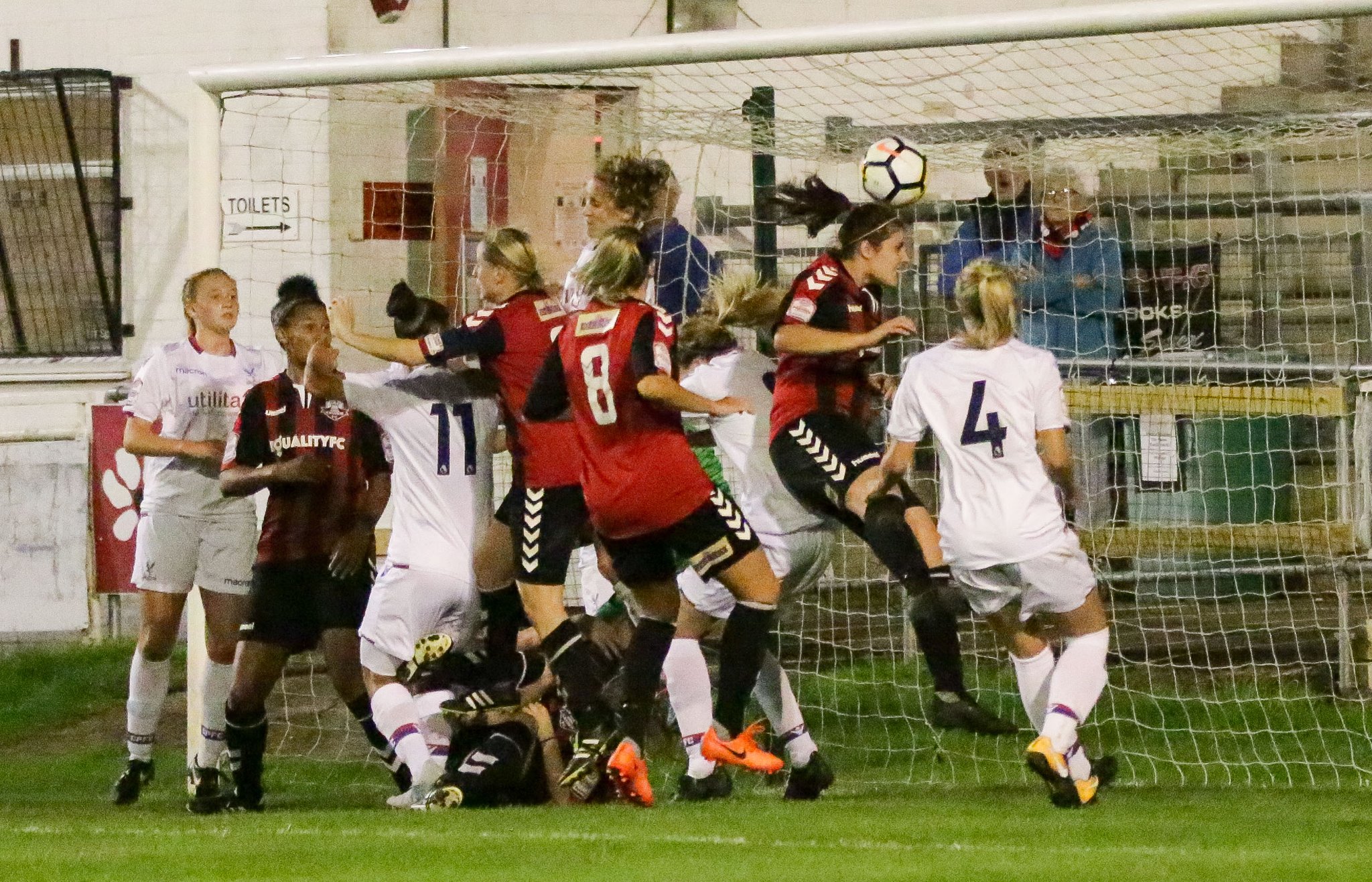 Danni Lane scored with a header moments after hitting the bar with a similar effort (Photo: James Boyes)
Lewes 1 (Lane 77)
Crystal Palace 0
Magnificent Lewes turned themselves into unlikely early Premier League title contenders after inflicting a first defeat of the season on high-flying Crystal Palace.
They survived a shaky start, struggling to get to grips with in-form striker Gemma Bryan, but battled their way back into the game and grabbed the crucial winner at the end of a period of sustained pressure to which Dean Davenport's players had no answer.
The stunning victory was Lewes's third in a row by the same score – all at their Dripping Pan ground, which has become something of a fortress for John Donoghue's side – and lifts them into third place ahead of Gillingham's game with C&K Basildon tomorrow night.
But while Donoghue and co were all smiles at the end, their opponents were furious – the players at the referee's failure to award them a penalty in the dying seconds and Davenport with his team's surrender.
"The big players never turned up," he fumed. "If there's no response [from the players] on Sunday, there will be from us."
Davenport was right to be disappointed with his side after their excellent start to the season – although as he pointed out, their three league wins have all been against sides they would expect to beat.
But much of the credit must go to Lewes, who, after a stuttering start, performed admirably, with Tammy Waine and Rebecca Thompson dealing well with the league's leading scorer, Bryan, and her partner-in-crime, Nikita Whinnett, and their formidable midfield finally working out how to cut off the supply lines to the free-scoring duo.
Up front, Rebecca Carter's pace and movement kept Palace's own back three occupied all night, and then there was Danni Lane.
The attacking midfielder-turned-wing-back was magnificent, carrying a genuine threat going forward and defending heroically whenever required. And it was fitting that she should score the goal that earned Lewes another three welcome points.
Former Brighton goalkeeper Faye Baker was on the bench, 24 hours after signing for the club, as Donoghue understandably kept faith with Leah Samain, who had conceded just one goal in three league games before tonight.
And she might need to be patient a little longer after the youngster again performed well, making a terrific save after just three minutes from the dangerous Bryan that was as crucial to Lewes's victory as Lane's winner.
Whinnett threaded a superb ball between Waine and Thompson for the striker, whose 11 league goals came in Palace's first three games, and when she let fly from 10 yards, Samain instinctively pushed her shot over the bar.
She had to be equally alert to keep out Steff Simmons' brilliant in-swinging corner as the unbeaten visitors got off to a roaring start.
Yet Lewes could have taken the lead on six minutes when Katie McIntyre's equally impressive corner, earned by Avilla Bergin's astute pass and Carter's pace, was met on the half-volley by Lane, and the ball flew just over.
In truth, though, the Londoners were enjoying the best of the opening exchanges, with Bryan a constant threat thanks to her pace and ability to bring others into the game.
Yet it was Lewes who won another corner in the ninth minute after the tenacious Carter had collected goalkeeper Megen Lynch's poor clearance and fed Sarah Kempson, only for the midfielder's effort to be blocked.
Palace confidence
Another fine McIntyre corner found Leeta Rutherford, but she was unable to direct her header on target.
Simmons' dead-ball kicking was putting Lewes's defence under pressure, and it took a superb header from Darcey James to avert the danger as the wide midfielder swung over a dangerous free-kick.
Palace were playing with the confidence you would expect of a team that had begun a season in which they are strongly fancied to compete for the title so impressively.
They were first to most balls and played constantly on the front foot, while Lewes were still, frankly, trying to find their feet at all.
When they were getting the ball forward, Carter, for all her pace, was too isolated to cause Palace's resolute defence – which had conceded only two goals in their first four games – many problems.
In what was an isolated effort on goal, Kempson tried her luck from 18 yards but hit her shot straight at the goalkeeper.
And moments later, on 24 minutes, Lane produced a lung-busting run down the left, similar to the one that led to her side's winning goal on Sunday against Portsmouth, again pulling the ball back from the byeline, but Bergin was denied a goal as she collided with Lynch, who needed lengthy treatment to what looked like a shoulder injury.
The tide was beginning to turn as Lewes began to crank up the pressure.
On 27 minutes James played in Bergin, but Lynch raced out of her area to clear the danger.
A minute later Bryan fed Pam McRoberts in similar fashion, but Thompson was alert to the threat and dealt with it calmly.
The home side had a let-off in the 29th minute when Samain's attempt at a short goal-kick found Bryan, who rocketed a shot straight past her, but the goal was disallowed as the ball had not gone outside the penalty area.
If the goalkeeper was at fault for that, she redeemed herself two minutes later when she saved smartly, low to her right, from Bryan's pot-shot from inside the box after the ball had ricocheted to her.
Palace won only their second corner in the 34th minute, and once again Simmons' superb delivery almost led to a goal, Rosie Paye heading just over.
Both sides were playing positively, and on 35 minutes James robbed Whinnett and sent Kempson away. The midfielder turned well but shot weakly at Lynch.
Palace corner number three came in the 37th minute, but when the ball was cleared as far as Bryan the striker's first-time effort from some 25 yards went well over.
Rutherford, who, like Kempson, was enjoying a much more constructive game than on Sunday, sent a trademark pass down the line for Carter to chase. The striker beat her marker and sent a low cross towards the penalty spot, but Lynch intercepted.
Bergin matched the tenacity of her fellow wing-back Lane, chasing back to thwart Palace after Bryan got away down the right and crossed.
The half ended with Lewes finally in the ascendancy. Rutherford fired well wide from 20 yards. Then Kempson's controlled low shot went just wide, with the 45 minutes all but up.
Yet with the last move of the half it looked like Palace would go into the break in the lead as Bryan bore down on goal, but the magnificent Lane came to the rescue with a phenomenal tackle.
Half-time: Lewes 0-0 Crystal Palace
Davenport made a substitution at half-time, bringing on Lydia Huntley.
But after another shaky start, it was Lewes who made the first inroads of the half, Carter outsprinting Ria Collins before being thwarted by a superbly timed tackle by Freya Holdaway.
The first chance of the half fell to Lewes on 56 minutes, although it was not much of one. Thompson's high cross from deep found McIntyre, whose header from the edge of the Palace area was easy meat for Lynch.
Moments later, the goalkeeper made another crucial intervention, racing out of her goal again to deny Carter, who was chasing Rutherford's smart first-time pass.
Lewes were pressing higher up the pitch than in the earlier stages of the match, denying Palace the room to deliver quality ball towards their twin strikers.
And when the ball did get beyond the midfield, Waine and Thompson in particular usually tidied up neatly.
Whinnett was shown a yellow card for apparent dissent as Palace's frustration at being unable to prise open the Lewes defence began to surface.
On 62 minutes the striker had a rare second-half opportunity, when the ball broke to her from a throw-in. But her fierce cross-shot was headed behind for a corner by the superbly positioned Waine.
As the game moved into its final phase, the tide seemed to be turning back Palace's way, as Lewes were forced to defend deeper and Palace moved forwards in numbers.
Another excellent headed clearance by Waine averted more danger for the home side on 64 minutes, and then her defensive partner, Thompson, somehow kept pace with the lightning-quick Bryan to deny her another chance.
On 66 minutes Donoghue took off Carter, who, in the first half especially, had been a real threat, and sent on Claire Johnson, who moved to right wing-back while Bergin took Carter's central striking position.
Palace took the opportunity to introduce Tia Foreman for Simmons.
The visitors still scented a goal, but when Whinnett found McRoberts in an advanced position, Waine was there again to tidy up.
Lane was spending more and more time helping out the defence as Palace continued to dominate, but she was equal to the challenge.
Then, on 72 minutes, she was involved in a rare move in the opposite direction, finding Bergin, who in turn found Kempson, but her attempt to send the striker away fizzled out as the ball drifted out of play.
It was the signal for the tide to turn once again, and Lewes forced three corners within a minute.
First, Thompson's free-kick was headed behind, and Lane headed McIntyre's superb kick against the bar before the ball was scrambled away for a second.
This time Lynch punched out McIntyre's cross and Lane was unable to get in a shot.
But it was third time lucky for Lane – and Lewes – when on 77 minutes she rose to meet McIntyre's kick from the opposite side.
It was a fitting reward for an increasingly superb performance from Lane, whose pace and power are now troubling Premier League defences in the way they used to grassroots teams in regional football.
And it was Lane again, at the other end, who twice broke up Palace attacks with expertly timed tackles.
Jade Davenport came on for Palace's McRoberts and Amy Taylor replaced Bergin, providing Lewes with a more conventional central striker for the closing minutes.
And the former Brighton forward very nearly added a second within moments of coming on. McIntyre, who remains one of the league's most consistent players, won the ball brilliantly in midfield and found Taylor, who tried her luck from 20 yards, only to see Lynch tip her effort over the bar.
McIntyre's corner once again fell to Lane, but instead of volleying, she tried to take an extra touch, and the ball was cleared.
With just two minutes left, Charlotte Owen came on for the injured Kempson for her first taste of league action with her new club.
And as the match entered stoppage time, more good work by Lane earned Lewes another corner, which, inevitably, was played short as the home side tried to eke out time.
Yet the visitors summoned one last effort, dispossessing Rutherford and sending Bryan – a much quieter Bryan in the second half – away. But once again, the immaculate Waine was there to mop up calmly.
The centre-back was not quite so calm in the third minute of added-on time, though, when another ball over the top put Bryan in the clear.
Waine tangled with her and as Bryan went down, Palace appealed for a penalty, but referee Elle Kaplicz gave a free-kick the other way.
Palace were incensed, none more so than Bryan, who headed for the dressing room in apparent disgust before being persuaded by her goalkeeper to return to the action.
She had barely made the halfway line, though, when Kaplicz blew for full-time, and she was once again on her way back to the dressing room as Lewes celebrated wildly a victory that lifted them to unfamiliar heights.
Verdict
This was a hard-earned victory – but a famous one – as Lewes rose to the occasion with a tenacious and disciplined performance.
It was their third 1-0 win in a row and third consecutive clean sheet, and while they may not be scoring prolifically, they've suddenly become a side that turns draws into victories, having acquired that winning mentality that separates victors from also-rans.
It is too early to regard them as genuine title contenders, with Charlton Athletic having opened up a five-point lead after just five games – and Palace will surely be among their main challengers.
But as the team of old and new faces continue to get game time, the understanding is growing – and more significantly, so is the belief.
Palace had an off-night, which upset their manager. But they still showed enough to suggest they will bounce back, starting with a home game against Portsmouth on October 1.
Reaction
John Donoghue (Lewes): "We've got some good goalkeepers, haven't we?"
"You'd probably say that [Crystal Palace] would be one of the favourites for the league. It was a tight game again and both teams looked nervous at times.
"We changed the shape slightly just to make sure that we were tighter in midfield to prevent some of those through-balls that they score from. It doesn't always work, but obviously it did limit them today.
"At the start of the game, if [Palace] have got the ascendancy, it's trying to get into the right position, and that's where we suffered a little bit. But once we said, right, this is what we need to do, it worked.
"[Regarding the Palace penalty appeal] both players are going shoulder-to-shoulder. Tammy was in front of [Bryan], so I suppose they judged it that to get round her [Bryan] may have pulled her. Both the linesman and referee signalled [the free-kick], so you'd be happy to take it.
"[Leah Samain] has conceded one [goal in the league], against Basildon. And that was from a wide free-kick where we didn't mark very well, so it wasn't down to her.
"That's three clean sheets in a row now. We've got some good goalkeepers, haven't we? It's those decisions you have to make, and if you want to aspire to play at a higher level, you have better players who all want game time and all knocking on your door.
"Hopefully, if players want more success, they appreciate that it might be the case that they don't get as much game time as they would have done in a mid-table team."
Dean Davenport (Crystal Palace): "One of the worst games I've ever seen"
"We never got going. We were missing too many of our big players today. They never turned up for the game, even though they were there playing.
"It was one of the worst games I've ever seen.
"[Palace's wins] were against teams that we should beat. Today when the going got a little bit tough, our players didn't…
"They know about it. We've had a quick chat. Voices have been raised, so we'll just have to see if we get a response.
"If there's not, there will be a response from us.
"It was a really poor showing today on our behalf. We always create a chance – but saying that, second half we never. There were big players in our team who didn't perform. And that's our downfall.
"When you're up against a team like Lewes, who are physical, very direct and try to win second balls and knock-downs, you've got to try and compete. Today we never competed in any form at all.
"[Regarding the penalty appeal] you either get them or you don't. Personally, I think it's a penalty, but at the end of the day, that's not going to win us the game. I'm only interested in winning games. I'm not even interested in drawing games because drawing and losing doesn't win you cups, leagues.
"We're now chasing [leaders Charlton]. On our day we're a good side. We get the ball moving and we can play. Obviously, tonight wasn't the case, and fair play to Lewes. They play the way they play, so fair play to them. They'll get results.
"I think the three 1-0s they've got in the last three or four games shows you that. You know it's going to be tough coming down here. But I can assure you when we play them [on October 11] it will be a different matter."
Sent Her Forward player of the match: Danni Lane (Lewes, 9/10)
Absolutely magnificent. She is playing in a different, more demanding role this season. But she is growing in stature – and crucially, confidence – every game.
As on Sunday, she was a real threat down the left flank when running at defenders, but she was also one of Lewes's best defenders.
In-between, she scored with a header that clearly was no fluke, having hit the bar with another 60 seconds earlier.
It was a wonderful night all round for the home team, though. Rebecca Carter (8), who, like Lane, was playing regional football just a couple of years ago, looks totally at home in the Premier League, with pace and positioning that poses even the best defenders problems.
Lewes's midfield quartet did a fine job in limiting passing opportunities for their opposite numbers. Katie McIntyre (7), Leeta Rutherford (7) and Sarah Kempson (7) all had good games, while at the back Tammy Waine (7) and Rebecca Thompson (8) were just terrific, largely shackling the twin threat of the potentially lethal Gemma Bryan and Nikita Whinnett.
And the contribution of goalkeeper Leah Samain (7) should not be overlooked. Despite the firepower at Palace's disposal, she did not have too much to do. But her third-minute save from Bryan was as crucial as it was brilliant, and Faye Baker and Lauren Dolbear will need to perform at their best to oust her.
It was a night to forget for Crystal Palace, although Bryan (7) was a real threat throughout the first half and might have won a penalty right at the end. Whinnett (6), too, gave Lewes plenty to think about in the early stages, while Freya Holdaway (6) impressed, too.
Sent Her Forward match rating: 7/10 A vast improvement on Sunday – and a close, absorbing contest.